With traditional audio guide devices you don't have to worry much about the structure of the content: usually visitors type the number of an exhibit on the device's keypad and receive the corresponding audio explanation.
Most digital audio guides (whether apps or PWAs) also offer the ability to type in a number to reach a specific content. But with touch screens all the content is in full view of the visitor, so with the rise of digital audio guides the structure of the content of an audio tour has become an important aspect to think about. Organizing the audio guide content in the limited space of a mobile screen represents a challenge, especially when there are multimedia elements that go beyond the conventional audio tracks, such as videos, image sliders, etc.
Here a few tips:
Organize the lists that make up an audio guide
Normally an audio guide consists of a list of the points of interest along the route. In a digital audio guide, each item in that list contains a clickable link to access the corresponding audio track. In large and complex exhibition sites it is convenient to provide a branched structure, with each branch consisting of a separate list.
The lists that structure the audio guide should provide clarity and relate to the actual circumstances of the tour. For example, if the exhibits are divided into two or three floors or two different buildings, it is advisable that the structure of the audio tour takes this into account, as this will help visitors to orient themselves.
However, care should be taken with thematic lists if they do not correlate with the physical exhibition space. When designing a digital audio guide, it is important to always keep in mind the route a visitor will take. If the room with medieval objects communicates with the modern history room, it is preferable to prioritize spatial distribution over chronological or thematic congruence.
Think about usability and avoid complicated navigation
Excessive structuring should be avoided, as this tends to be at the expense of a more complex and less intuitive navigation. We should not confuse a digital audio guide with a web page, since audio guides are tools at the service of a physical visit. The visitor to an exhibition venue is not comfortably seated at home and has neither the time nor the interest to learn how to navigate through an excessively complicated audio guide. Another very important point to keep in mind is that not all museum visitors are digital natives. The ideal audio guide is one that can be easily handled by all kinds of users.
For example, if a museum has five rooms on the ground floor, it may not make sense to create a navigation tree with a separate track listing for each room. Possibly grouping all objects in a single module will facilitate navigation and avoid unnecessary clicks.
This principle also applies to sound tracks or multimedia elements. In most digital audio guides, clicking on a point of interest opens a new page that usually contains the image of the exhibit and an audio track, sometimes triggered by automatic playback and sometimes requiring a new click. Once the track has been played, the user must return to the listing to locate the next track and click on it, and so on with each point of interest along the route:

In our view, it would be desirable to reduce all these unnecessary clicks by offering all tracks on the same scrollable page, which is the most intuitive navigation method for older generations who are not digital natives:

Facilitate customized expansion as well as limitation of audio guide content
Not all visitors to a museum or attraction have the same level of interest. Some come to a museum because they find it on their way when visiting a city and only have enough time to see the exhibit's highlights. Others may be great specialists in the subject and spend hours in front of a single display case.
A well-structured audio guide caters to all these different interests. Unlike traditional audio guide devices, digital audio guides allow easy expansion of the information. They can add secondary audio tracks, but also videos, image carousels, superimposed images, 3D objects, downloadable PDFs…
But a good digital audio guide can also limit the content to the time available to the visitor and to focus on the highlights of the collection. Thus, some digital audio guides offer users the possibility of choosing a "30-minute route" that only contains the most relevant exhibits.
How Nubart solves audio guide structuring issues
Nubart's proposal to organize the content of an audio guide is based on a single page scrollable model. Three perfectly combinable structuring tools can be applied to this basic model: the modular system, thematic tags and collapsible buttons. The result is a flexible and intuitive audio guide, which offers different levels of information complexity but is also very easy to use.
Let's take a look at each of these tools.
1. Modular system
The idea is to create broad sets of content in blocks or modules that are well differentiated from each other.
This way of organizing content is ideal for venues that have several independent buildings or spaces. For example, the Riotinto Mining Park in Huelva (Spain) consists of a museum, a train, a mine and a house, and in its digital audio guide we have assigned a separate module for each of these sites.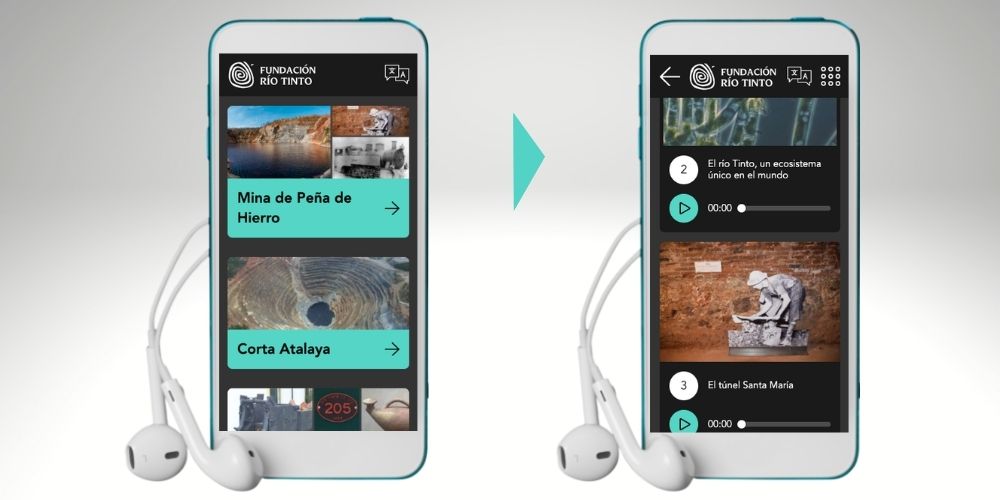 This modular structure is also the ideal option to separate contents thematically or chronologically. The most common case are museums with many exhibitions, both permanent and temporary. In such cases, each exhibition is assigned a separate module. For example, the audio guide for the Albertina Museum in Vienna, Austria.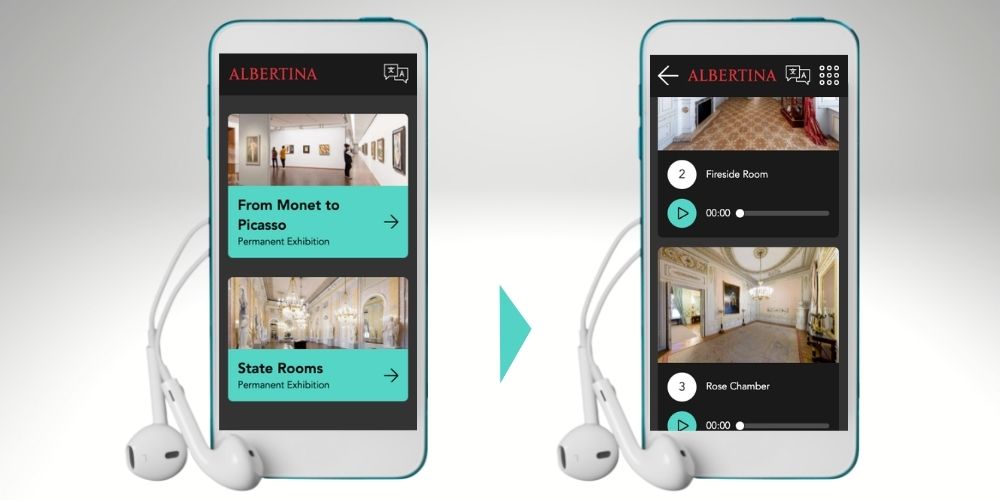 2. Thematic tags to customize content based on visitor's interests
Tags are an ideal tool when you have to structure very rich and diverse content and you want to give users the option to filter it according to their particular interests.
This is especially useful in audio guides for events such as trade shows, which are attended by professionals with the clear objective of doing business. The range of exhibitors at these events is usually very wide and varied and attendees cannot afford to waste time. Thanks to our labels, trade fair attendees can select booths according to specific thematic areas of interest, and thus get the most out of the fair. In this example of an aluminum trade show, attendees can filter exhibitors according to their particular professional focus and easily locate them on the floor plan: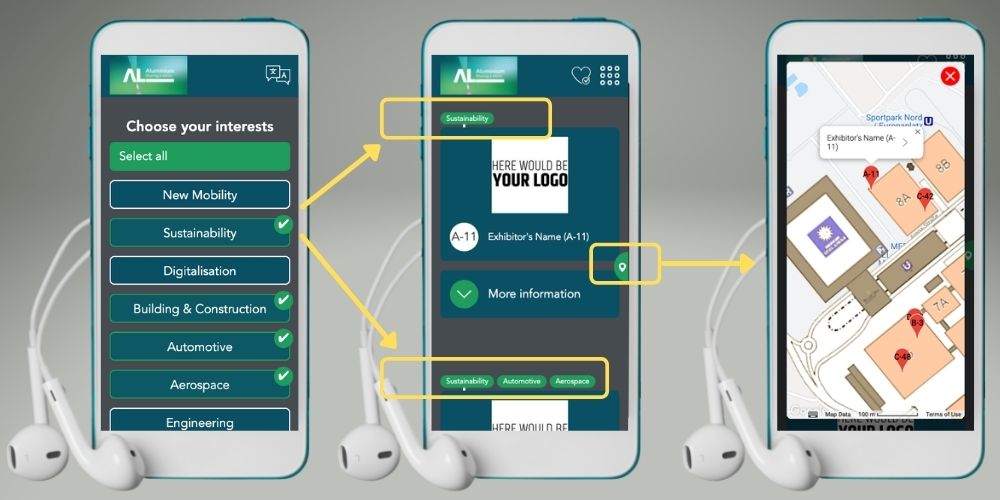 It is also a perfect tool to audio guide city tours and support city marketing, as it allows tourists to choose the topics and activities that interest them most. In this guide to the city of Baden, Austria, users can select cultural, gastronomic and commercial sites, find the information related to each one and structure the tour according to their preferences: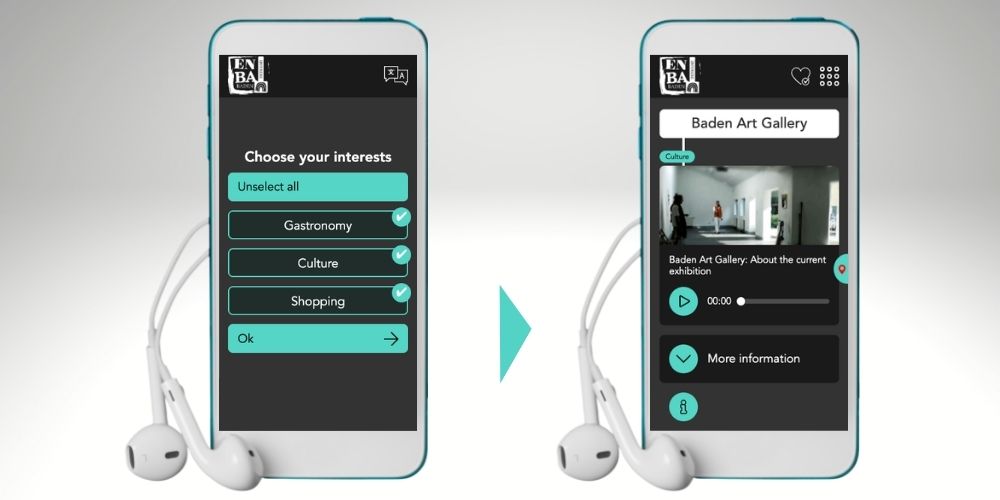 Another use case for tags are very large museums that want to help visitors filter the high volume of available exhibits according to their personalized interests. This is the case for the audio guide of the National Museum of Slovenia in Ljubljana, which uses tags to offer visitors the option of a 30-minute route with the highlights.
Therefore, the tag system serves both to limit and extend the content of the audioguide, always according to the visitor's preferences.
3. Collapsible button with more information
The expansion of the content of an audio guide, although desirable, can generate structure problems and overwhelm visitors with an excess of content that can distract them from the route they are following.
For this reason Nubart has created collapsible "more information" buttons. These buttons allow you to add a second level of depth to the audio guide tracks, but without forcing visitors to leave the screen and without distracting them from the main content. Users who wish to expand the information on a particular piece can do so and easily resume the tour.
For example, visitors to the Dornier Museum in Friedrichshafen interested in the early days of the Zeppelin can use this drop-down to view an historical photo. Scrolling automatically collapses the button: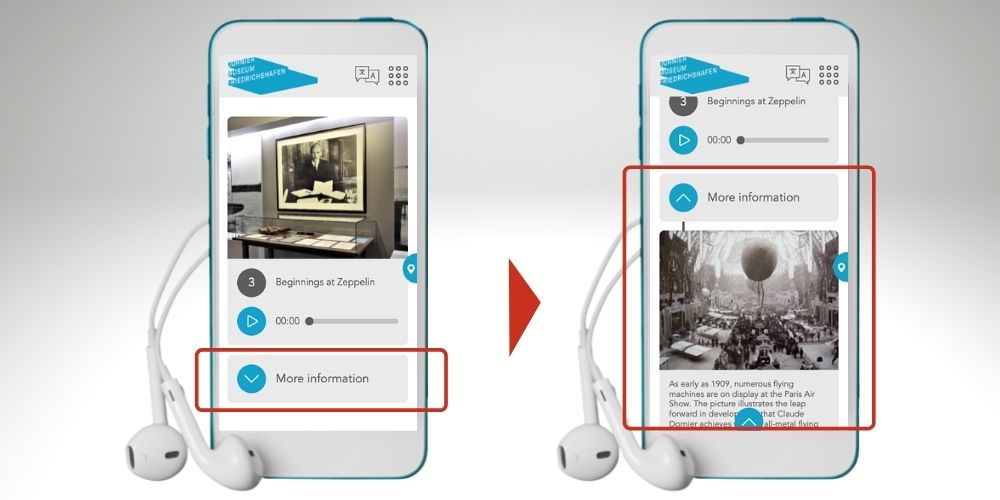 Instead of that photo, the drop-down button could also have included other kinds of multimedia files.
Nubart's in-house developed CMS for audio guides is highly flexible and can reflect the most appropriate structure for our customers' audio tours. Naturally, all the tools presented here can be combined in the same audioguide. For example: the same guide could contain several modules, use labels only in one of them, and add collapsible buttons in some contents.
Tell us what contents you need to organize in your audio guide, and we will be happy to help you find the most convenient structure for your venue.
---