As I write this, no one knows when the coronavirus crisis will end. But there is one thing everyone agrees on: nothing will ever be the same. One of the most affected sectors is culture. Especially public places that bring people from all over the world together around their cultural offerings, such as museums, which are currently almost completely closed.
Sooner or later this unprecedented crisis will be over and museums will reopen. But the sensitivity of the public will have changed. Some habits, such as physical contact when greeting each other, will not be recovered overnight. The increase in hygiene measures will also last, especially if, as some scientists predict, the Covid-19 will still be with us for some years, reappearing in waves.
Everything points to the fact that it will be a long time before someone is willing to rest a previously passed audio guide device on their face.
Cell phones and hygiene
Most of us know that smartphones have always been a surface with high bacterial and microorganism growth. According to a research by the University of Arizona, a mobile phone has 10 times more bacteria than a toilet seat, and nine out of ten cell phones contain microorganisms that can potentially spread diseases. We hold our cell phone in our hands countless times a day, after touching many other potentially infected surfaces, such as public transportation grab bars, doorbells, or doorknobs. We use our device so often that trying to wash our hands before and after every single use is a futile endeavor.
But, hey, it's our dirt, after all! We can live with that. Our smartphone has become a too important comodity to allow us the luxury of being picky.
And besides: cell phones are personal devices. The data contained in our smartphone is sensitive, so we usually do not lose sight of it and rarely share it by passing it to somebody else.
But now, think about audio guides. An audio guide device in a museum is like a mobile phone that is passed from hand to hand many times a day and whose functionality requires to bring it close to the face, either directly or through a headset.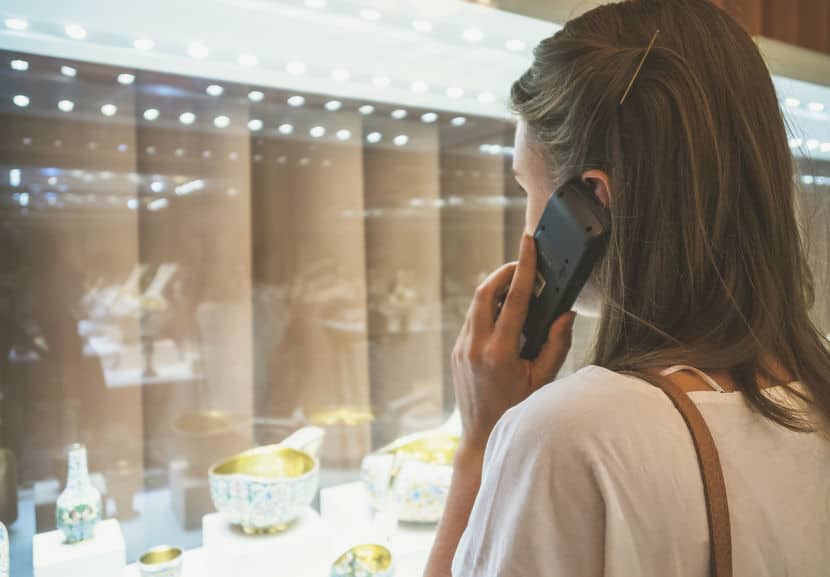 In our face are precisely the main routes of entry of the coronavirus into our bodies.
Cleaning up audio guides in a museum
Hygiene has always been a relevant factor when dealing with audio guide devices in a museum. In the market studies we carried out when launching Nubart, we were surprised by the number of people who claimed never to take an audio guide in museums only because of hygienical reasons. It can be deduced that hygiene precautions will always have affected the rate of acceptance of the audio guides and, consequently, also the revenue that the museum obtains through its delivery, although it is difficult to establish at what percentage.
The best venues are aware of this situation and instruct their employees to clean the audio guides before and after each use.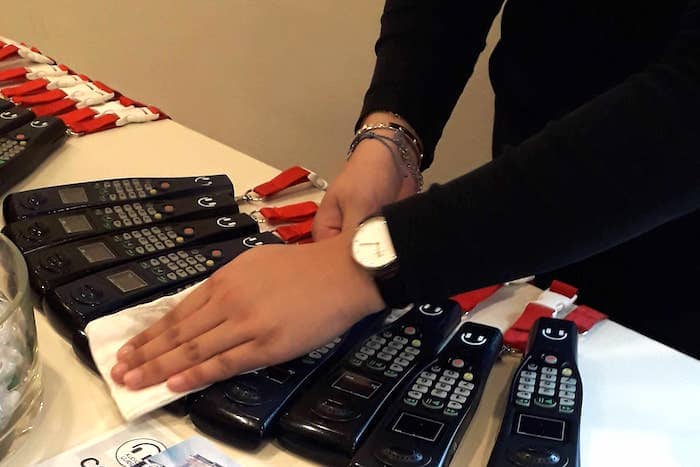 However, museum visitors do not always know whether this cleaning has taken place or not.
Statistically, it has already been established a diminished demand to visit touch-based museums like science centers due to the corona-risk.
In times of global pandemics like Covid-19, we are no longer talking about subjective feelings of disgust by apprehensive visitors, but about a real health risk for which the museum could feel co-responsible.
Most audio-guide devices have buttons and nooks and crannies that make it difficult to thoroughly sanitize the devices. In addition, according to scientists at Princeton University in a survey published in The New England Journal of Medicine, coronavirus resists up to three days on plastic or steel surfaces, the two materials most frequently used in the manufacture of audio guide devices.
Since we can consider audio guide devices as "public objects", an especially intense procedure should be applied to sanitize them:
Turn the device off.

You may have to remove the plastic capsule to clean dust and insterstitial dirt with a microfiber cloth. (Nowadays many audio guides are converted mobile phones. In order to increase their robustness and to prevent visitors from accessing certain buttons and functions, they are usually delivered in a special plastic case).

Clean the surface with single-use disinfectant wipes or a cloth soaked in a solution of 62-71% ethanol, 0.5% hydrogen peroxide or 0.1% sodium hypochlorite.

Leave the device moistened in the chosen solution, preventing the liquid from getting inside it through the holes in chargers, headphone jacks or ports.

Instead of drying the device with a cloth, wait three minutes for the liquid to evaporate in order to extend its action time.

Wash your hands before cleaning the next device.
In this context, the sanitation of audio guide devices becomes so troublesome that it may no longer be feasible in practice. No visitor wants to wait on a long queue at the audio guide counter. In larger museums, thorough sanitation of audio-guide devices would probably require the hiring of extra staff.
Alternative solutions
Even if a vaccine or a definitive cure for the coronavirus is found very soon, given these circumstances it does not seem likely that traditional audioguide devices will have a future in museums any more. This crisis have been global and overwhelming. We have learned that global pandemics, which until now we only knew from some bad science fiction movies, are a real danger. And that this crisis may not be the last one.
The only alternative is through audioguides that the visitor can keep instead of rental, or BYOD-digital solutions (native Apps or web-apps).
---