Press Release
Nubart develops a "covid-free" guiding system for groups that allows to maintain safety distance during pandemics
In order to support museums and tourist sites facing the challenges presented by a reopening under the Covid-19, Barcelona-based company Nubart has developed a digital audio guide platform that complies with hygiene requirements and will allow social distancing when visiting tourist attractions.

BARCELONA, April 27, 2020. After weeks of bewilderment and dismay caused by the Covid-19 pandemic, some museums are gradually preparing to reopen their doors when the containment measures are relaxed. The reopening will have to take place under strict conditions of safety and hygiene. Some countries, such as Germany, are requesting reports on the hygiene measures that establishments plan to adopt, requiring the approval of health authorities in order to authorize reopening. The most common measures include building Plexiglass shields at ticket desks, providing disinfectant for staff, prioritizing credit cards over cash, limiting the number of visitors and increasing hygiene measures of all kinds. In the UK, some museums are also considering removing audio guides and touch screens from their venues. According to the British Museum Association, some museums have warned of the reputational risk if their establishment is identified as a source of infection.
In this context, traditional audio guide devices, which are passed around and often have to be hold close to the face to listen, are particularly critical because of their potential risk of viral transmission. The same applies to the radio guide devices often used for group guidance.
In order to support museums and other tourist sites facing these new challenges when reopening under Covid-19, Nubart has accelerated its development of an extensive guiding platform that meets hygiene requirements and will allow the maintenance of social distance when visiting public establishments of all kinds.
Nubart produces audio guides cards that visitors can keep: as they do not have to be returned, the risk of contagion derived from touch by multiple people is prevented. In addition to that, now Nubart offers ultra-compact cardboard as a new material for printing its cards instead of former Bio-PVC, since according to recent studies, the lifetime of the SARS-CoV-1 virus on a cardboard surface is only one third of the lifetime on plastic surfaces, such as those commonly used for the manufacture of electronic devices.
Besides, and above all, Nubart has just launched a system that allows the guidance of groups while maintaining social distance.
By simply scanning the codes printed on the cards of the members of a group (no touching required), the guides will automatically generate a one-way channel to transmit their explanations through the visitors' own smartphones. The guide's smartphone acts as a transmitter and the visitor's smartphones as receivers. In this way, the guide will be able to speak at a normal volume and still be heard by group members, who can easily keep the two-meter distance between the guide and the other visitors. Previously this effect could only be achieved by electronic devices, but those pose the same hygienic concerns as traditional audio guides.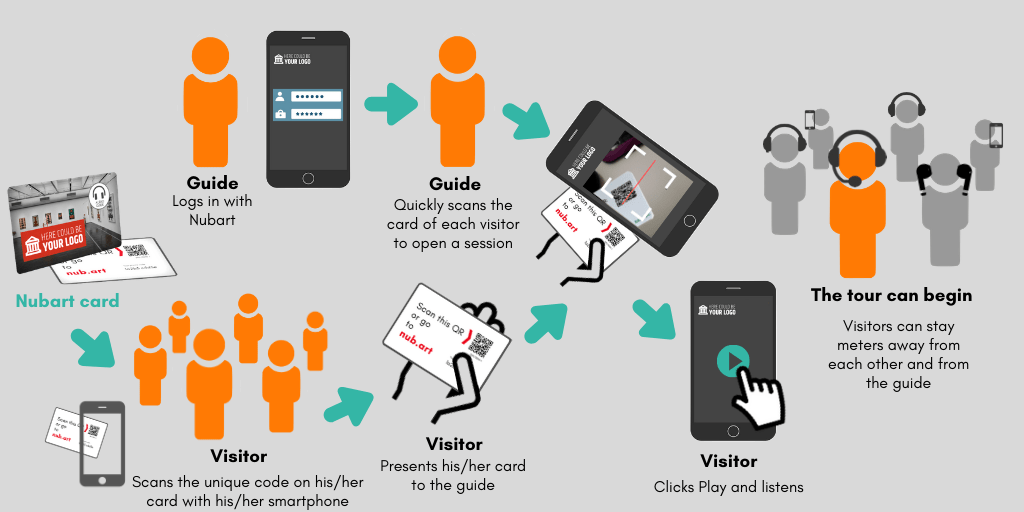 "This will not only allow museums to continue offering guided tours of their collections without visitors having to get close to the guide to be able to listen," says Rosa Sala, CEO of Barcelona-based Digital Tangible SL, which owns Nubart. "It will also be a great opportunity to contribute to the reactivation of our important tourist industry by promoting guided tours in open spaces without risk of transmission. All you need are our cards, your own mobile phone and an acceptable mobile data coverage".
In the event that a visitor has been tested positive for Covid-19 after visiting a museum or cultural venue offering the Nubart card, it will be possible to notify the other visitors that where at the same venue or group at the same time, since each Nubart card has a unique, anonymous and non-transferable identifier. After an infected person alerts Nubart anonymously with a feature integrated in the guide, Nubart will send a push notification only to the visitors that were in the same group. "Unfortunately, iPhones don't support web-based push notifications yet" says Sala, "but Android is predominant in the European market and apparently there are efforts to allow web push notifications in iPhones, too. Until then iPhone users can just rescan the card and check if there was an alert."
Many museums are offering free, universally accessible digital audio guides. "This has been an excellent idea to keep up awareness with visitors during the confinement period," says Sala. "But this can not be monetised. Once museums reopen, they will have to confront the zero earned income they had during confinement. The codes that allow access to the digital content of our audio guide cards are non-transferable, and therefore have commercial value and can be sold to visitors, similar to when a museum charges for the rental of traditional devices."
In order to support museums during this transition, Nubart is offering significant discounts on their regular rates and the free integration of any digital content (audio-tracks, videos and images) that the museum may already have from its other audio guides or apps. "With Nubart it is not necessary for a museum to sign a contract, as is usually the norm with traditional audio guide devices," says Sala. "You can buy a certain number of cards to cover this transition phase and, if required, return to the traditional audio guides as soon as we have a vaccine against the virus".
Contact:
Rosa Sala, PhD
CEO Digital Tangible (dba Nubart)
Tel.: +49 (0)30 216 02 001