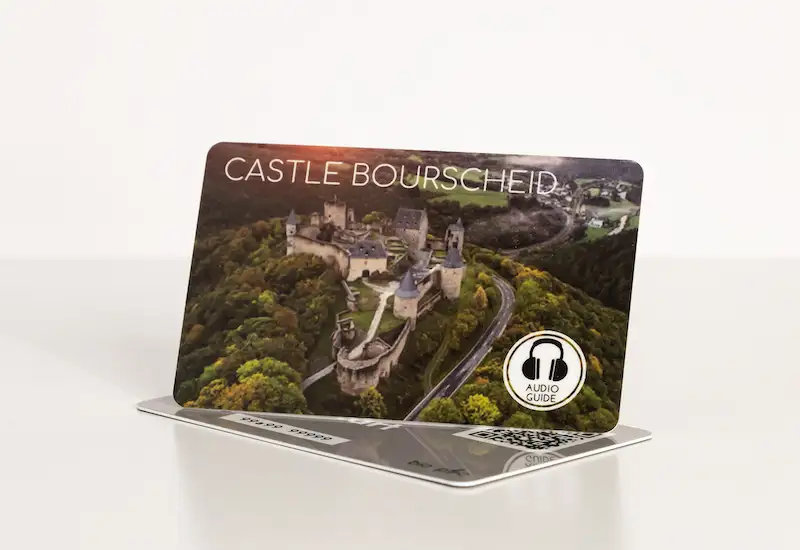 Caranorn, CC BY-SA 4.0
Photodudau, CC BY-SA 4.0
Project information
Customer: Bourscheid Castle (Luxembourg)
Product: Audio guide
Content production by Nubart: No
Year of launch: 2019
Project status: Active
Bourscheid Castle's audio guide card
Bourscheid Castle is the largest castle in Luxembourg. Recognisable by its towers, it was the home of the Lords of Bourscheid, loyal vassals and advisors to the Duke of Luxembourg. It was abandoned in the 19th century and its ruins were only restored after 1970.

Because of its secluded location and thick walls, the Bourscheid audioguide works 100% in offline mode. It is available in 7 languages, and includes tours for children in most of them. The content was provided entirely by the client.

This audio guide also has collapsible buttons that allow the user to access a second level of information to personalise their visit. And it also incorporates an interactive map.
Visitors' feedback on the Bourscheid Castle audio guide
Visitor from Belgium, age 36-45
21-06-2022
Very interesting tour, just the right amount of info and good system that you can use your own phone.
Visitor from Germany, age 26-35
14-06-2022
We liked it very much and the children learned a lot and enjoyed the guided tour very much.
Visitor from Germany, age 46 - 65
19-05-2022
First class audio guide. Great that Luxembourg and especially the people who work to help preserve the castle 👍 I can only leave a thank you to all here.
Visitor from France, age 66 - 100
12-05-2022
Thanks to the audioguide, one apprehends much better what this castle represented! Very good technology to discover the site by yourself, bravo!
Visitor from France, age 26 - 35
10-04-2022
A very nice castle and a lovely audio guide. Thanks a lot for delivering this amazing experience!