What you have to send us for us to produce your audioguide
Nubart's goal is to reduce your workload as much as possible. Just send us the following basics and we will take care of all the rest! This includes formatting and converting audio, image or video-files.

The cards
Once we have your order, we will contact you with our designer to conceive the design of the card. You can make suggestions and choose from several options.
You can send us one or more images for this purpose. We will combine them with your logo to design the card.
Please send them as JPG or PNG and in high resolution.
Of course, we will ask for your approval before ordering the print.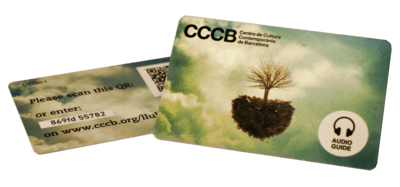 The logo of your museum will appear in the design of the card, in the digital content and in the PDF with the audio guide's credits.
Please send it as SVG or as PNG with transparent background.

Despite its democratization since the COVID-19 epidemic, many users do not know how to scan a QR code. To help them, we have integrated our own QR reader under
nub.art
. This page also allows you to enter the alphanumeric code printed on the card.
We always recommend to use our domain
nub.art
. But, if necessary, we can also print out your website's domain and redirect it. If necessary, your domain can also be printed and redirected to nub.art. For this purpose, ask your webmaster to create a subpage, e.g.
www.museum.com/guide
and to redirect it to nub.art.
Please make sure that
this subpage is created permanently
and
the redirect remains active
. We do not assume any liability about cards that have lost their functionality due to a wrongly redirected or inactive subpage.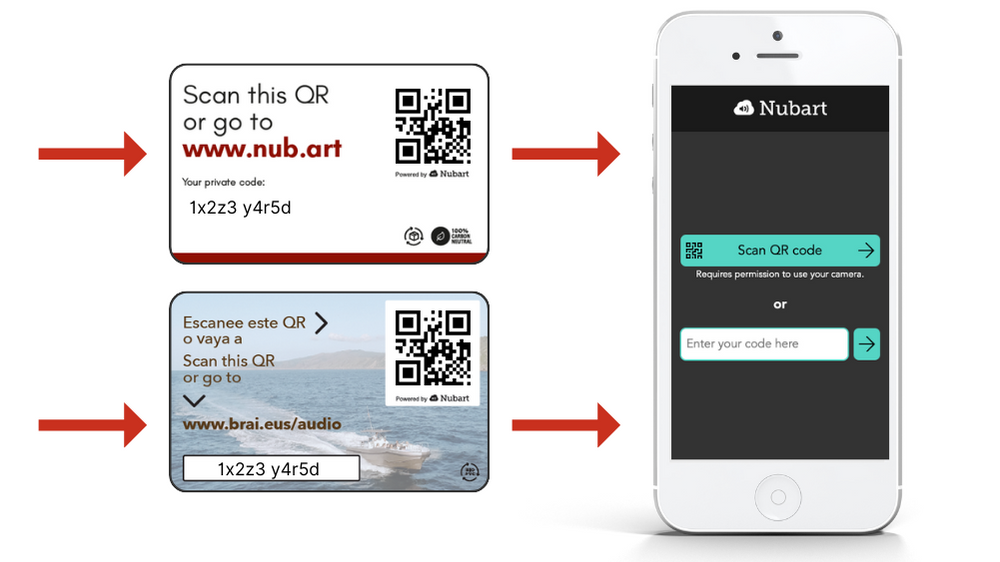 If your museum's domain is very long, we recommend buying a short domain and then redirecting it. We can assist you with this. Keep in mind that your visitor will have to type this URL entirely on the small keyboard of a smartphone.
The content
You will receive an invitation to register in your customer area. There you can upload the content that you want us to integrate into your audio guide. We will also assign you a project manager with whom you can clarify all your questions.
Audio tracks, if available, in any format. We will adapt them to the parameters we need.

The pictures help the visitor to quickly identify the exhibits or POIs represented in the audio guide.
We only need pictures of the audio guided exhibits. Please send us the pictures as JPG or PNG and with a minimum width of 700 px, that's all! We will take care of cropping, resizing and adapting them for your audio guide.
You can decide if you prefer the pictures as thumbnails, in large format or as an image slider (up to 15 images).
Please let us know if an image has license restrictions so that we can look for an alternative solution. If you wish, for an additional fee we can take care of managing the rights of your images.

These images look fancy and are especially suitable for "showing" spaces normally inaccessible to the visitor.
We use a light-weight equirectangular format (one single image-file). To ensure support among all devices, the image size should be max. 4096 px wide.

If you would like to include one or more videos in the audio guide, please upload the files to your customer area in the format of your choice.
Keep in mind: our total offline mode is not compatible with videos!
We recommend optimizing the PDF-files to reduce its size.
If Nubart is to produce the script
To write your audio guide script, we need the following:
General guidance on the tone and style you want for your audio guide: purely informative, informal or more academic, for a sophisticated audience or an unknowing one....
List of points of interest (POIs) to be included in the audio guide.
2-5 keywords about the ideas to be conveyed per POI.
Contact information for the curators of the exhibition to ask questions or request information.
Apart from some basic elements, such as information brochures about the exhibition or the catalog, it is usually not necessary to send us any other documents. Our script writers are academically trained and familiar with researching appropriate sources of information. They will contact you if they need additional information.
If Nubart produces the audio tracks
Send us the script you propose. We will review it, adapt it and use it for our translations and recordings.
If Nubart is also to create the script, a member of our team will contact you.
Additional information required
At the end of the audio guide, Nubart integrates a short feedback form to collect the opinion and comments of your visitors.
Two of the questions are included by default: the rating of the show from 1 to 5 and a free comment field.
You can choose the remaining three questions from this list:
Age
Gender (The preset answers to this question are "male", "female" and "non-binary")
Is this your first visit?
Country
Postal Code
Did the audio guide contribute to a better understanding of the exhibition?
What other topics could be addressed in the audio guide?
Would you recommend this audio guide?
Where did you buy this audio guide?
Optionally we can send your visitors' comments in real time to a provided e-mail address.
We can unsubscribe from this service at any time if you wish (for example, if you should receive too many feedback emails): The comments of your visitors are available for you in your customer area as well.
At the end of the audio guide we will insert a downloadable PDF file with all the credits, including the names of the voice over artists and translators. Please provide us with the data we should include (e.g. copyright for images).