Because you want to treat your visitors better than the others, by giving them something memorable and tangible to take home.
And because only about 2% of college visitors download a campus tour app.
An all-in-one digital tool for college tour guides
See all the features of Nubart Campus
Multilingual explanations
Make sure your international prospects understand your message!
GPS-navigation
With our geo-scrolling and interactive maps no prospect will miss a meeting point.
High usage rate
Native campus tour apps hardly reach 2% of your visitors. Nubart easily achieves 45%.
Memorable visit
Campus visitors will keep the card and continue to listen on their way home.
Just a replacement for printed maps, or a complete multimedia guide?
Interactive maps with orientation help, videos, sliders, offline mode, downloadable files, option to leave voice messages with an inquiry...

All this and more can be integrated into a Nubart college tour card.
Request a folder with samples of Nubart audio-guide cards
Would you like to try our cards for free?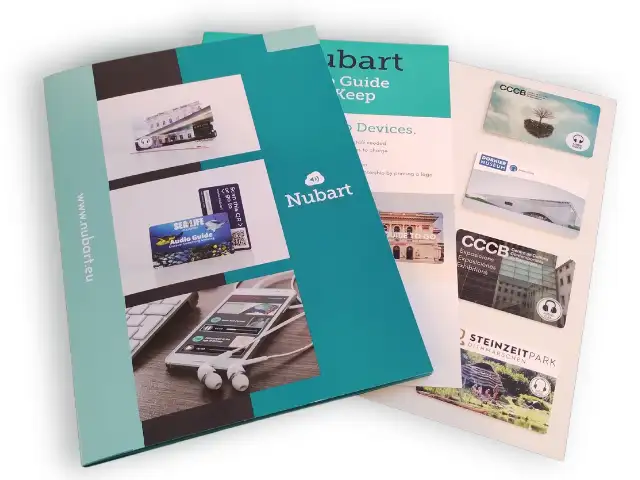 Fill out this form and we will send them to you by mail:
How about exploring the campus in a fun way?
Then let's implement our scavenger hunt.
With our animated widgets geolocated by GPS you can make sure that your visitors really have seen everything you want them to see.

And you can give a price to the winners!
Multilingual self-guided mobile campus audio tour
Self-guided in-person campus tour
An all-in-one audio guide
A campus tour is often the blind date of the admissions process.
Sometimes campus tours are unavailable or overbooked. Also, a growing number of prospective students prefer an independent, self-guided visit.
Our audioguide cards can be given to the visitor at the admissions office or student information desk, replacing printed PDFs or apps. Visitors use their own smarthone to access the pre-recorded content, achieving a much higher usage rate than any app or mobile campus tour.
With Nubart's cards, you control the message. You can update the content as often as you like and tailor it to the visitor's specific interests. Our collapsible more information button allows you to provide a huge amount of additional information in any digital format (video, PDF, image sliders...) without interrupting the campus visit.
Even if your international prospects have a good command of English, their visiting parents may not. Nubart maps support dozens of languages, including Mandarin, Japanese, Arabic and Hebrew. With our audio guides, you can create content in any language to show your university's love of diversity. (At Nubart we can take care of the multilingual production).
You can also integrate a digital and browser-based live tour guide system, so that campus visitors can listen to the student guide from their own smartphone.
GPS-activated geolocation
Prevent your visitors from getting lost on campus
No more printed maps or PDFs
Campuses are large, with many paths and buildings. You don't want your prospective students to feel intimidated and get lost on their first visit to campus.
Nubart has made it easy to navigate a university campus. Our interactive maps with GPD-triggered geolocation show you the location of each building or point of interest. One click takes you straight to the informative content.
See Nubart's geo-scrolling in action
With our multi-level modular system, we can provide a map that shows you how to get to each campus, and another, more detailed map that shows you the location of each element within that campus.
We can also apply automatic geo-scrolling to one or more points of interest on the campus tour: with this feature, as you approach a particular landmark on campus, the relevant information will automatically scroll up on the phone's screen.
See Nubart's interactive maps in action
Statistics about your college visitors
Gather Visitor Data and Feedback
Get to know your visitors
Anonymous statistical information about the reach of personal campus visits can help you make calculated decisions.
Nubart's campus audio tours are a great way to get relevant data without invading privacy or being intrusive: increase your business intelligence by improving the visitor experience.
You and your staff are given access to a password-protected data dashboard. You can see what country your visitors come from, what language they speak, how long they stay in the venue, what tracks they listen to...
Our geo-tracking option provides you with heat maps and scatter maps that allow you to areas of the campus that your students have been moving through, analysing the differences by time period.
See our geo-tracking in action
Each of our tours includes a customised feedback form. Your visitors can rate the quality of the visit and tell you how you can improve their experience. You can also use the form to ask visitors what state or region they are from, or what information they missed in the audio tour.
See our statistics dashboard in action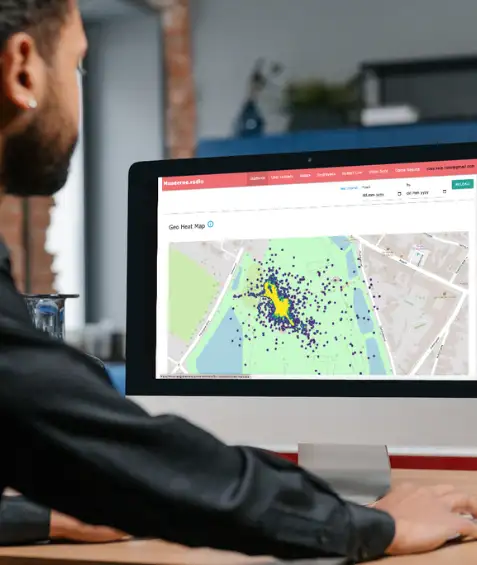 Worried about costs? Don't be.
Nubart has extremely convenient Business Models
Pay-as-you-go
Nubart as a product: The campus simply purchases a number of customized cards and optionally commissions Nubart to produce content. The cards are valid indefinitely and the college can distribute them until they run out. No recurring fees!
Subscription
The traceability of our cards allows us to know exactly how many cards have been used and to invoice you every few months. Cards will be regularly supplied and content production can be rolled in.
Only for campuses that meet certain conditions. Just ask us!