Check Nubart's features for college tour guides
Features
Multilingual explanations
Make sure your international prospects understand your message!
GPS-navigation
With our geo-scrolling and interactive maps no prospect will miss a meeting point.
Customisation
You can apply your branding both to the card and to the digital content.
Memorable visit
Campus visitors will keep the card and continue to listen on their way home.
High usage rate
Native campus tour apps hardly reach 2% of your visitors. Nubart easily achieves 45%.
Check Nubart's Value Propositions for college tours
Our features explained
Multilingual self-guided mobile campus audio tour
A campus tour is often the blind date of the admissions process.
Sometimes college tours aren't available or are over-booked. Also, a growing number of prospective students prefer an autonomous self-guided visit.
Our audio guide cards can be handed to the visitor at the admissions office or student information desk to replace printed PDFs or apps. Visitors use their own smarpthone to access the prerecorded content, reaching a much higher usage rate than any app or mobile campus tour.
With Nubart's cards you control the conveyed message. You can update the content as often as needed and you can tailor it to the specific interests of the visitor. Our collapsible more information button will allow you to provide a huge amount of extra information in any digital format (video, PDF, image sliders…) without interfering with the campus visit.
Even if your international prospects have a good command of English, their visiting parents may not. Nubart cards support dozens of languages, including Mandarin, Japanese, Arabic and Hebrew. With our audio guides you can create content in each language to show your college's love of diversity. (At Nubart we can take care of the multilingual production).
You can also integrate a digital and browser-based live tour guiding system, so that campus visitors can listen to the student guide from their own smartphone.
Collect relevant stats, data and feedback about your campus visitors
Anonymous statistical information about the outreach of in-person campus visits can help you to make calculated decisions.
Nubart's audio tour cards for campus are a great way to obtain relevant data without invading privacy or being intrusive: boost your business intelligence by enhancing your visitor's experience.
As our customer, you and your required employees will get access to a password-protected data-dashboard. On the dashboard, you will see your visitors' country of origin, their native language, how long they stay at the venue, which tracks do they listen to…
Our geo-tracking option will provide you with heatmaps and scattered maps that will allow you to see which areas of the campus your students have moved through, and even analyze the differences by time period.
Each of our guides includes a customized feedback form. Your visitors can evaluate the quality of the visit and also let you know how to improve their visiting experience. You can also take advantage of the form to ask students what state or region they are from, or what information they miss in the audio tour.
You can access all those feedback-replies anytime on your data-dasbord and even receive those answers in real time via email.
Nubart's data are GDPR-compliant.
See our statistics dashboard in action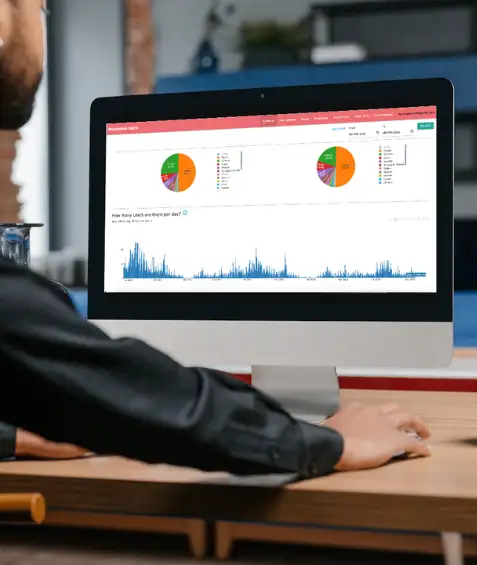 Check Nubart's Business Models
Business Models
Pay-as-you-go
Nubart as a product: The campus simply purchases a number of customized cards and optionally commissions Nubart to produce content. The cards are valid indefinitely and the college can distribute them until they run out. No recurring fees!
Revenue share
The traceability of our cards allows us to know exactly how many cards have been used and to invoice you every few months. Cards will be regularly supplied and content production can be rolled in.
Only for venues that meet certain conditions. Ask us!